September 14, 2023
Universal Flattery: Bridesmaid Dress Styles That Suit Most Body Types
In a world where body diversity is celebrated, brides are increasingly seeking bridesmaid dress styles that cater to different figures. Embracing inclusive fashion choices allows bridesmaids to shine and feel their best, contributing to a positive and empowering atmosphere at the wedding.
The ultimate aim is to have bridesmaids who not only complement the bride's vision but also exude confidence and elegance. By considering universally flattering dress styles, brides can ensure that each member of the bridal party walks down the aisle feeling comfortable, beautiful, and empowered.
Part 1. Understanding Body Types
Understanding the various body types is essential for choosing bridesmaid dress styles that complement each woman's natural features. From the classic hourglass with balanced proportions to the elegant pear with narrower shoulders and curvier hips, each body type has distinct characteristics that determine how different dresses will fit and flatter.
Before selecting dress styles, it's advisable to have an open conversation with each bridesmaid about her body type and what she feels most comfortable and confident in. A quick assessment of proportions and identifying certain characteristics can help determine whether someone is a pear, apple, hourglass, rectangle, petite, or plus size.
Part 2. Flattering Silhouettes That Work for All
A. A-line dresses are universally adored for their ability to flatter a wide range of body shapes. The A-line silhouette gently cinches at the waist and then elegantly flows down, resembling the shape of the letter "A". This shape helps create a balanced and proportional look, making it suitable for bridesmaids with varying body types. Whether someone has an hourglass figure, a rectangle shape, or is petite, an A-line dress can highlight their natural curves while providing comfort and versatility.
B.Empire waist creates length and elegance, it looks good on all body shapes except tall girls. The empire waist dress style features a raised waistline just below the bust, with the rest of the dress flowing down. This design creates the illusion of a longer torso and legs, making it particularly flattering for shorter bridesmaids. However, it works well for most body shapes except tall individuals, as it can visually shorten their proportions. The empire waist style is a favorite for its ability to enhance elegance and grace, while also accommodating various body types without sacrificing comfort or style.
Part 3. Versatile and Figure-Flattering Necklines
A. Wide V Neckline in Middle Depth The wide V neckline is a timeless choice that can work wonders for bridesmaids of all body types. When the straps cover less than half of a single shoulder width, it creates a broader neckline that draws attention to the face. Additionally, when the V neck's depth is positioned around the level of the nipple, it elongates the upper body and adds a touch of elegance. For petite bridesmaids, the wide V neckline also helps create the illusion of height.
B. Middle Width and Depth Round Neckline The middle width and depth round neckline is a classic and versatile option that suits virtually every body shape. With the shoulders being half-covered and the depth falling about 1 to 1.5 inches below the collarbone, this neckline strikes a perfect balance between modesty and style.
C. Off-the-Shoulder Neckline with Modest Depth The off-the-shoulder neckline is another universally flattering option that offers a hint of elegance and femininity. For bridesmaids with narrow shoulders or a rectangular body shape, the off-the-shoulder design helps create the illusion of broader shoulders. The modest depth ensures a comfortable fit while maintaining a touch of allure.
Part 4. Flattering Sleeves for Most Body Types
A. Cap Sleeves Cap sleeves are a versatile and flattering option that offers a touch of coverage while maintaining a delicate and feminine look. Cap sleeves can add a hint of elegance and balance to narrower shoulders while enhancing the upper arms and shoulders for those with a more rectangular or athletic body shape.
B. Flaring sleeves, are forgiving and flattering for many body types. Flutter sleeves, for example, create a whimsical and feminine look, while bell sleeves can add drama and flair. The flowing nature of flaring sleeves can help soften the arms and create movement, making them a lovely choice for bridesmaids of varying shapes and sizes. Flaring sleeves include butterfly sleeves, flutter sleeves, bell sleeves, bishop sleeves and bat wings.
C. Fitted Sleeves with Moderate Length Sleeves that are no longer than short sleeves, typically around 8 inches in length, can offer both comfort and style. These sleeves provide just enough coverage to the upper arms without feeling overly restrictive. Fitted sleeves can help create a balanced and proportionate look for bridesmaids with narrower shoulders or smaller busts.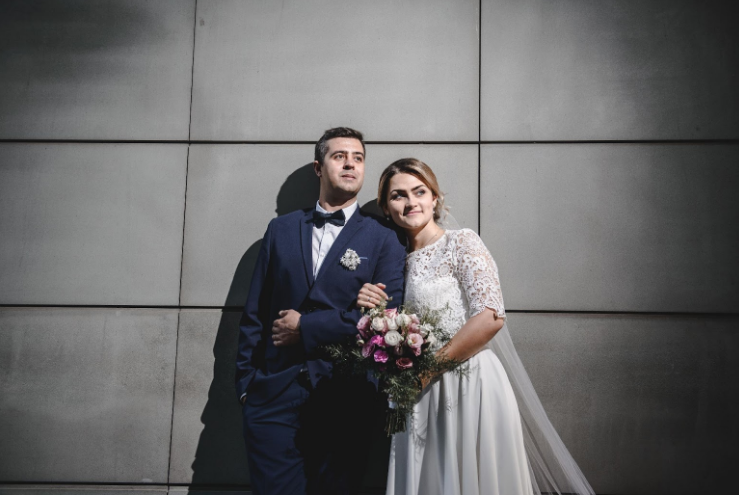 Part 5. Consideration of Fabric
A. Satin and Chiffon Fabrics Satin and chiffon fabrics are excellent choices in this regard. Satin offers a smooth and luxurious appearance, while chiffon is known for its airy and flowing quality. Both fabrics have the ability to drape elegantly over various body shapes without creating any unwanted textures or bulk.
B. Satin's lustrous finish adds a touch of sophistication to the ensemble, while chiffon's lightweight nature ensures that the dress moves gracefully with every step.
C. Avoiding Tulle, Organza, and Velvet While tulle, organza, and velvet fabrics can create stunning visual effects, they might not be the most universally flattering choices for bridesmaid dresses.
For plus-size and apple-shaped bridesmaids who want to avoid adding extra volume around the waist and hips, it's best to steer clear of fabrics like tulle and organza. These materials can exaggerate curves and potentially create an unbalanced silhouette. Similarly, velvet can have a plush and heavy appearance that may not suit all body shapes, especially in warmer climates or beach settings.
Part 6. Bridesmaid Dresses Recommendations
Certain styles stand out for their versatility and ability to enhance the beauty of each individual. Here are some recommendations that brides can consider for their bridal party:
1. This wrap dress is crafted with velvet fabric, the V neckline is with middle length and depth, the flutter sleeves add coverage and flatter all body shapes. The wrap style tolerates the size for about 1 to 1.5 inches.
https://edresstore.com/product/modest-dusty-blue-wrap-velvet-bridesmaid-dresses-with-flutter-sleeves.html
2. The baby blue dress features plunging sweetheart neckline, the long sleeves are sewn with stretchy band and can be worn as off the shoulder or regular sleeves. Ruched top is flattering and emphasizes the curve.
https://edresstore.com/product/pastel-blue-bridesmaid-dresses-long-sleeves.html
3. The moss green dress features a round neck with middle width and depth. The hand made flower on the side neck adds a touch of sophistication. Flutter sleeves with elbow length flatter all body shapes. The A line skirt with some box pleats on one side.
https://edresstore.com/product/modest-eucalyptus-green-bridesmaid-dresses-flutter-sleeves.html
4. The dusty sage dress features O neck, the overall pleating details divide proportion and makes a beautiful look. The short flutter sleeves tolerate arm dimension and flatter all body shapes.
https://edresstore.com/product/modest-lds-dusty-sage-chiffon-bridesmaid-dresses.html
 By considering these recommended bridesmaid dress styles, brides can ensure that their bridal party exudes confidence and beauty on the special day, regardless of their individual body types.
The versatility of the highlighted dress styles showcases the possibility of achieving a cohesive look while celebrating diversity. Every body shape is beautiful in its own right, and these universally flattering options ensure that every bridesmaid feels stunning and comfortable. Embracing diversity and empowering bridesmaids to feel confident, regardless of their body type, leads to a truly unforgettable and radiant wedding celebration.